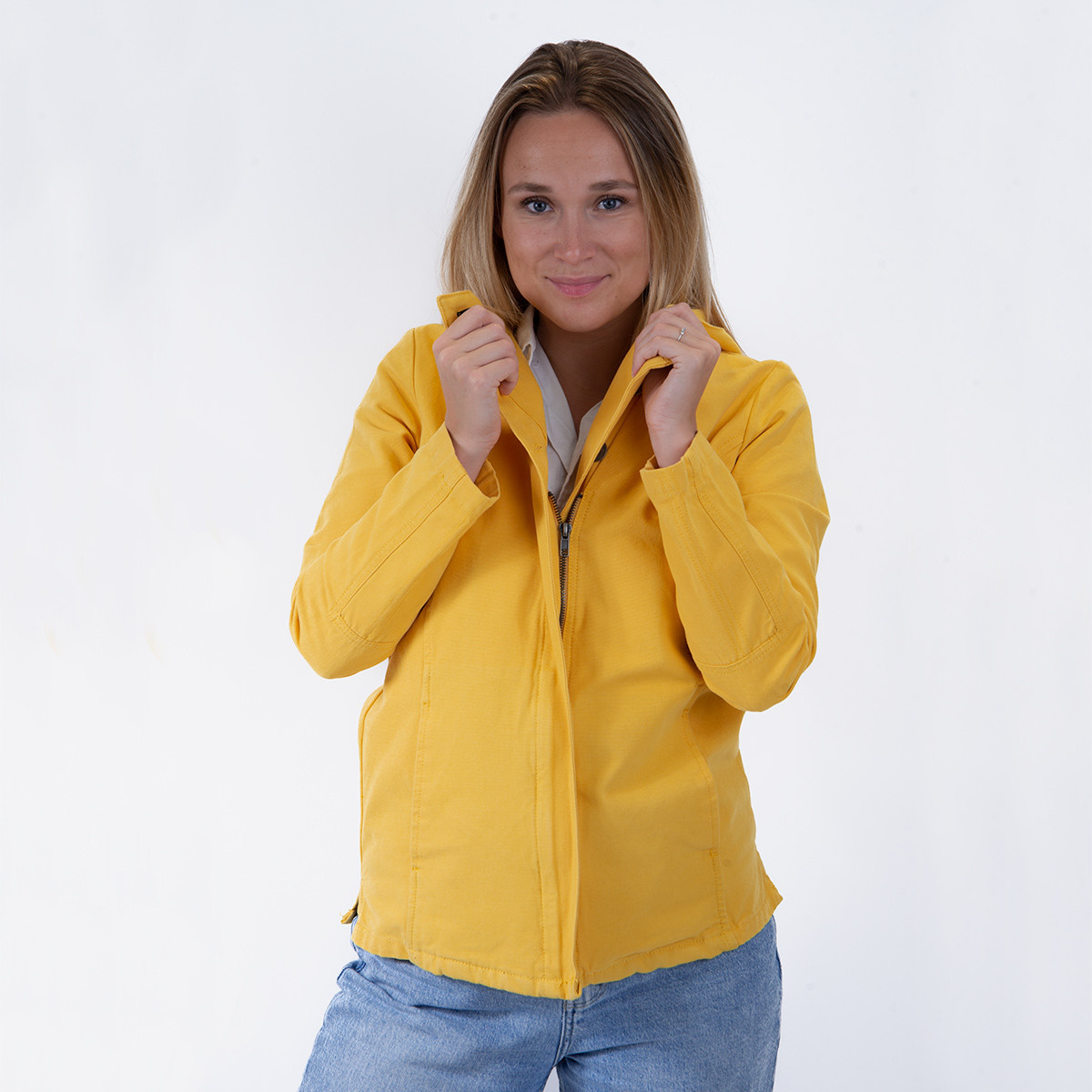 We love this new jacket in the original shape! To wear open at the top for a casual look, or closed to be protected thanks to its hood and its zipper.

| | | | | | | |
| --- | --- | --- | --- | --- | --- | --- |
| | S | M | L | XL | XXL | XXL |
| A | 65 | 67 | 69 | 71 | 73 | 75 |
| B | 45 | 47 | 49 | 51 | 53 | 55 |
Compositions
Toile Ottoman 100% coton. Traitement déperlant
Coupe
Veste à fermeture asymétrique avec un zip et boutons métals gravés devant. Capuche, 2 poches fendues devant. Coupe droite.
Nylon, cotton, wool, linen: each fiber requires a different maintenance. Here you will find some maintenance tips that will allow you to enjoy your All'Océan clothing for a long time.
Caroline W. published the 03/08/2022 following an order made on 07/06/2022
Très belle coupe, joli couleur bien qu'un peu plus foncée que sur l'image. Le bémol est sur la finition du produit : pour un article à ce prix (95€) je m'attendais à ce qu'au moins la toile soit surfilée, ce n'est pas le cas, en particulier au niveau des poches où les bords du tissu sont très larges et s'effilochent, je vais devoir les faire reprendre par une couturière. Il y a un manque de transparence sur le lieu de fabrication du produit : non indiqué ni sur le site ni sur la veste. J'ai découvert en recevant ce produit qu'il était susceptible de déteindre sur les vêtements clairs en cas d'humidité (y compris transpiration) ce qui n'est précisé nulle part sur le site (étiquette sur le produit découverte au moment de la réception). J'ai un peu peur de le porter lorsqu'il bruine du coup, ce qui est dommage puisque la veste est sensée avoir reçu un traitement déperlant. D'ailleurs la rubrique "détails du produit" sur le site est incomplète et fausse car il y a des indications sur la composition pour la couleur "marine" et pour la couleur "dauphin/craie", cette dernière n'étant pas proposée à la vente. En revanche aucune info sur les couleurs "paon" ou "curry" qui sont parmi les 3 choix possibles... Bref le manque de transparence et d'information couplé à des finitions que je juge peu à la hauteur m'ont poussé ) noter "moyen". J'espère que la veste ne va pas décolorer trop vite au soleil.