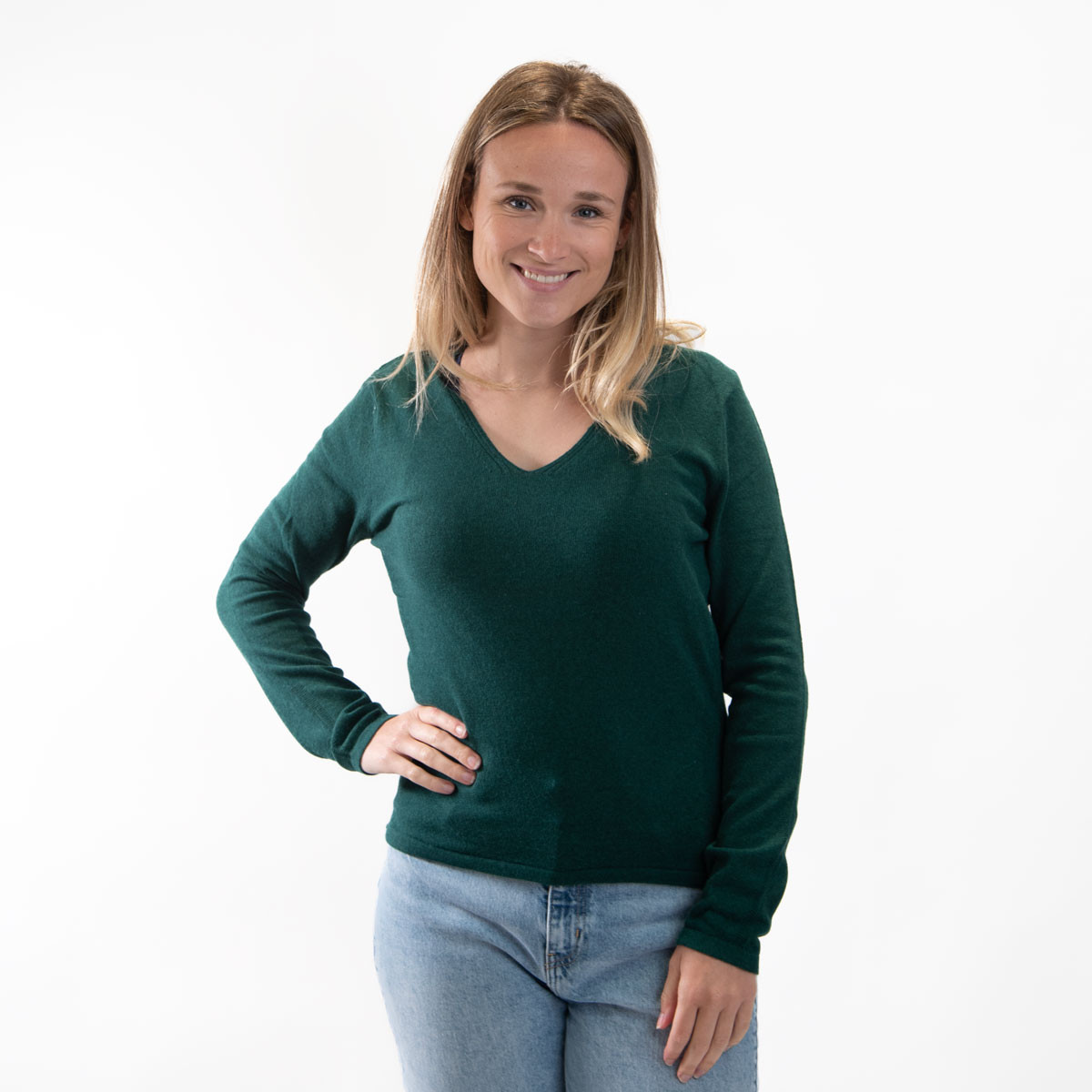 The Salicorn, a light and ultra-feminine sweater
The days are getting warmer and we are generally not sure how to dress. A thick sailor sweater is far too warm and it's still a bit chilly to abandon it completely. This is why All'Océan has decided, for you ladies, to create for the 2023 collection, the SALICORN sweater. Made of a mix of materials : polyamide, wool, viscose and cashmere, this lightweight quality sweater is ideal for mid-season. With its fitted cut, its V-neck with reduced raw edges and the decorative moss stitching on the sleeves, it will bring a feminine touch while remaining simple. A classic to have in your wardrobe after all! Choose from one of these 3 colors, if you want an all-purpose color, opt for the night or green color and if you want a lighter and brighter color, the SALICORN is available in beige. The hardest part will be choosing !
What to wear with the Salicorn for a 100% feminine sailor look ?
In fine weather, slip your sweater over a PÉLICAN tank top, if ever the sun's rays are less shy, you'll already be ready to enjoy it (while still having a 100% marine). For women who are a little more chilly, you can adopt a ADÉLIE sleeveless down jacket (RDS certified) available in 7 colors. Finally, if you like to walk in the forest or on the beach in the spring and want to protect yourself from the wind or the passing rain, complete your outfit with the PENMARCH marine raincoat, ideal to wear over your SALICORN.
What we like : the lightness of this sweater, its 3 colors that will add a touch of color to your daily life, its fitted cut and its V-neck for an ultra-feminine look.
Salicorn sweater details:
Natural Fiber Blend - Bamboo Viscose
35% polyamide, 30% wool, 30% viscose, 5% cashmere
Oeko-Tex® certified
Slim fit
Long sleeves
V-neckline with raw edge trimmed
Detail on the sweater collar
Fancy garter stitches on sleeves
Check out our other models of sweaters & sailor sweaters for women.
Available from S to 2XL

| | | | | | |
| --- | --- | --- | --- | --- | --- |
| | S | M | L | XL | 2XL |
| A | 59 | 61 | 63 | 65 | 67 |
| B | 43 | 45 | 47 | 49 | 51 |
Compositions
35% polyamide, 30% laine, 30% viscose, 5% cachemire
Coupe
Coupe ajustée.Manches longues.Encolure en V bords francs diminuée.Détail sur le col du pull.Points fantaisie mousse sur manches
Nylon, cotton, wool, linen: each fiber requires a different maintenance. Here you will find some maintenance tips that will allow you to enjoy your All'Océan clothing for a long time.