Camélia
100% wool camouflage printed scarf
Delivery in 230 countries
Standard home delivery within 3 to 7 working days for Europe and 4 to 10 days for International.
30 days to change your mind
If your order comes from another country, the return costs are your responsibility.

   Need more information on how to return your item?
Visit our FAQ area or call us on +33(0)2.97.55.74.20.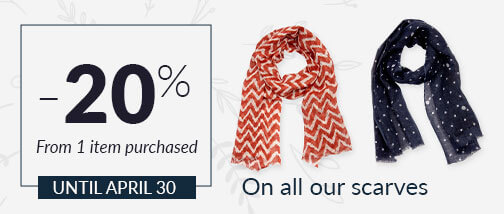 This chic and sober scarf from the All'Océan collection is very comfortable. This season, you will appreciate its light and fluid wool knit. Mixing grey and indigo colors, this accessory is ideal to complete your outfit.
Compositions
100% wool
Coupe
Size : 70cm x 180cm
Nylon, cotton, wool, linen: each fiber requires a different maintenance. Here you will find some maintenance tips that will allow you to enjoy your All'Océan clothing for a long time.