Boarding!
White / Cobalt sailor suit + Navy capri pants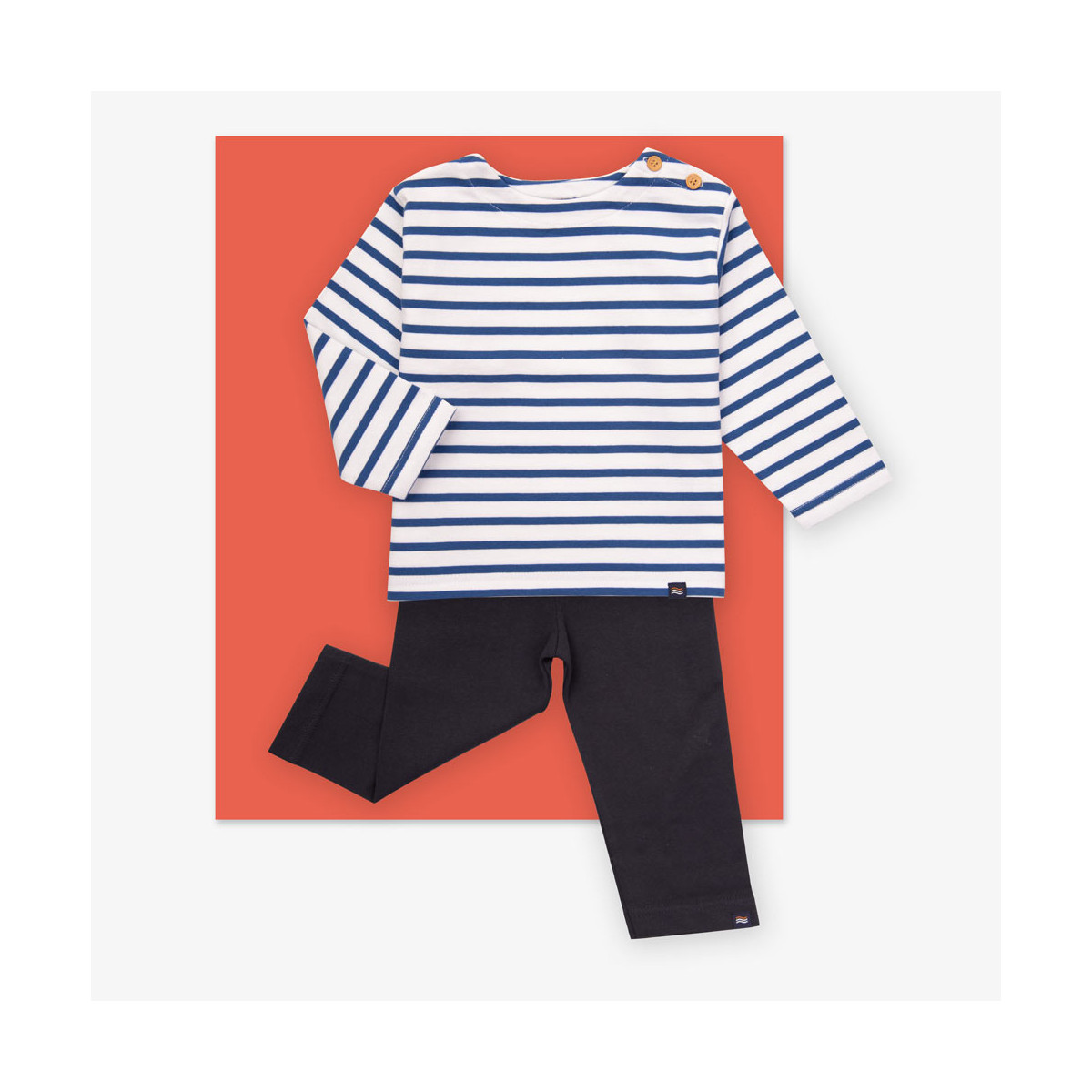 mixed, thick organic cotton - jersey 300grs
Crevette, long-sleeved sailor top for kids
Discover one of the All'Océan classics in the children's department: the CREVETTE long-sleeved sailor top. 25 years ago, we stopped working on this iconic sailor top that will appeal to children and parents alike. In 100% GOTS-certified organic cotton, designed in thick 300-gram jersey for the well-being of our toddlers but also of the planet, this comfortable sailor top can follow your child on each of these adventures. Equipped with long sleeves, it is above all very practical to put on thanks to these three buttons on the shoulder which make it possible to widen the round neckline. With a straight cut, this unisex sailor top will suit both girls and boys. Moreover, the colours, 17 in number, have been worked so that any child will find their favorite sailor top. Your child will be able to start his day by choosing his color and thus start a new adventure. The CREVETTE sailor top is comfortable, partly thanks to its thick organic cotton but also because it has comfort slits on each side of the waist, so your cabin boy won't be that way. not tight and will remain free to move. This is THE centerpiece for a 100% marine look.
A little sailor look !
Why not perfect the outfit of the perfect little sailor by adding accessories? Our PATELLE scarf as well as our BIGORNEAU beanie have been declined in the same colors in order to be able to match them. Are you afraid of a few drops of rain from Breton weather? Have him put on our raincoat for kids CORAIL and keep it away from wind and weather.
What we like: the 17 colors on offer which allow you to adapt the sailor top to suit your mood, its comfortable and environmentally friendly cotton, its ease slits on the the side.
Details of the Crevette sailor shirt :
Organic cotton
Jersey 300 grams
Oeko-Tex® certified
Straight cut
Long sleeves
Round neckline
Slits on each side
Buttoning at the shoulder
Discover our different models of children's sailor tops in the dedicated category.
Data sheet
---
Compositions
Maille jersey 100% coton biologique lourd 300 grammes
Coupe
Long sleeves and straight cut with round neckline. Slots on each side. Buttoning on the shoulder. All'Ocean label at the waist.
Mixed kid's jersey pant - 100% cotton
A child jersey pant very comfortable and easy to match with the beautiful stripes of our T-Shirts CREVETTE or TRANSAT. All'Océan has thought of all these growing children with an elastic waist to fit all morphology. A mid lenght leg pant, ideal for walks longside the beach, for fishing and hiking ! This model is suitable for girls and boys.
Data sheet
---
Compositions
100% coton biologique, jersey 300 grammes
Coupe
Straight cut with elasticated waist and All'Océan claw

Secured Payment