The Softshell jacket, what is it?
---
Published : 2020-11-04 15:13:29 | News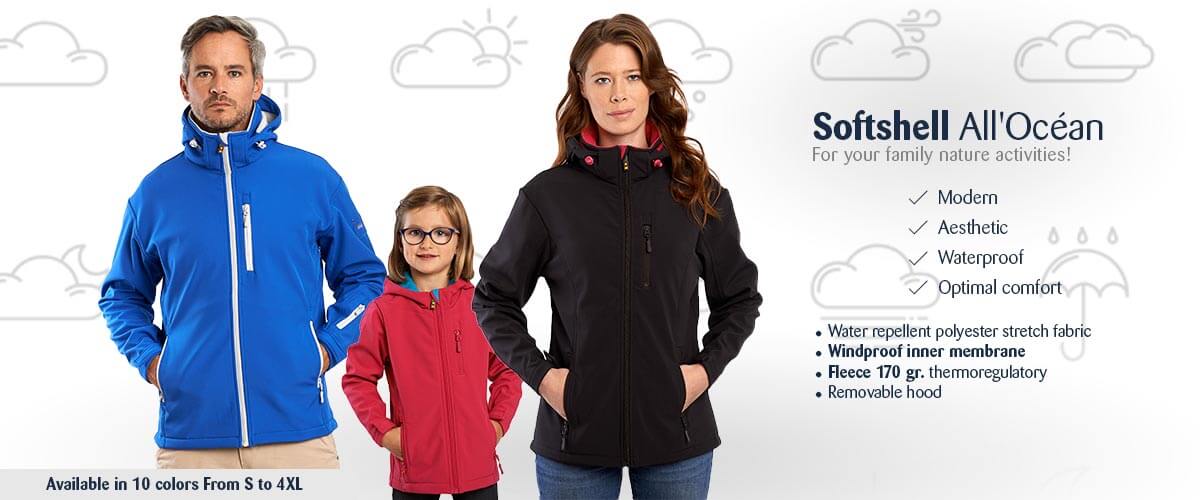 What is a Softshell jacket?
An essential for outdoor
All'Océan offers a wide selection of softshell hiking jackets for men, women and children. The softshell jacket will quickly become essential for your activities in the great outdoors, during a hike, a sporting activity or even to go to work by bike. Waterproofing, breathability, technical advantages of the Softshell material, we will explain why the All'Océan softshell jackets are so popular with professionals and athletes! Follow the guide.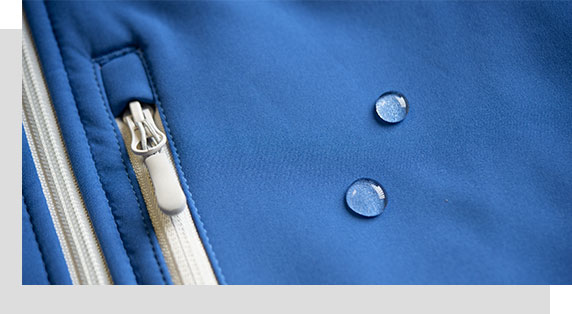 The softshell technology was developed a little over twenty years ago with the ambition of allowing outdoor sportspeople to stay warm and dry. This innovation brings to softshell clothing the advantages of a fleece combined with those of a water-repellent fabric. For those who like to camp, hike or see for more extreme sports, the softshell jacket has clearly become an essential basic for the outdoors. This very practical garment is perfect for many situations.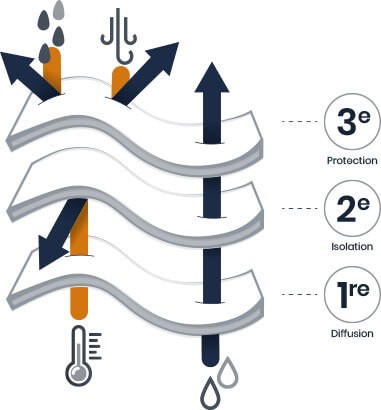 3 layers technical clothing
Breathability, warmth, comfort and protection
The term Softshell is an appellation for garments with properties located at the balance between water and air tightness and breathability. 
The softshell garment is composed of 3 layers of fabrics, each with its own particularity: 
Polar fleece for thermal insulation
Waterproof and windproof membrane
A resistant and stretch elastic technical fabric
The advantages of a Softshell jacket
Uncompromising freedom of movement

The softshell is therefore the assembly of a first layer of stretch polyester fabric which provides comfort when worn. The intermediate layer is composed of a microperforated membrane repellent waterproof and windproof but permeable body moisture, all ensuring optimum insulation. The third layer in micropolar fleece guarantees you excellent thermoregulation. This fabric assembly increases the evacuation of perspiration and will allow you to do moderate intensity activities in cold weather.
The cut of our jackets is particularly designed to be close to the body and the elasticity of the fabric facilitates great freedom of movement. The high-end finish is distinguished by numerous quick fasteners to adjust the jacket for optimum protection as well as by its removable hood.
The Softshell for what purpose ?
For a walk in the forest, a sporting activity or at work
Our softshell jackets and vests are particularly suitable for people who practice outdoor activities. Whether at work or for leisure activities in the great outdoors, the softshell will keep you warm and dry.
Whether you are passionate or a lover of Trekking, hiking or mountain biking, or whether it is for beautiful family walks, our softshells will meet many uses. Our softshells jackets and vests will protect you from bad weather, rain and wind, and thanks to their fleece lining they will keep you warm while preserving you
Ideal for a mountain hike with the family but also very appreciated in the world of work, this garment will give you complete satisfaction.
Related products
Groenland softshell jacket

Banquise softshell jacket