Close menu X
Man

Men's Lookbooks

---

Offer (yourself) a gift

---

Kid

Kids Collection

---

Babies Collection

---

Kid's Lookbooks

---

Offer (Yourself) A Gift

---

Accessories

For kids or not,
For a total sailor look
Discover our accessories
for a successfull outfit !

Customization

Gift ideas

---


Do you want to give a gift ?
Treat your loved ones
in a few clicks !

Waterproof marine raincoat : how does it protect you from the rain ?
---
Published : 2023-03-17 16:54:29 | Certificates , News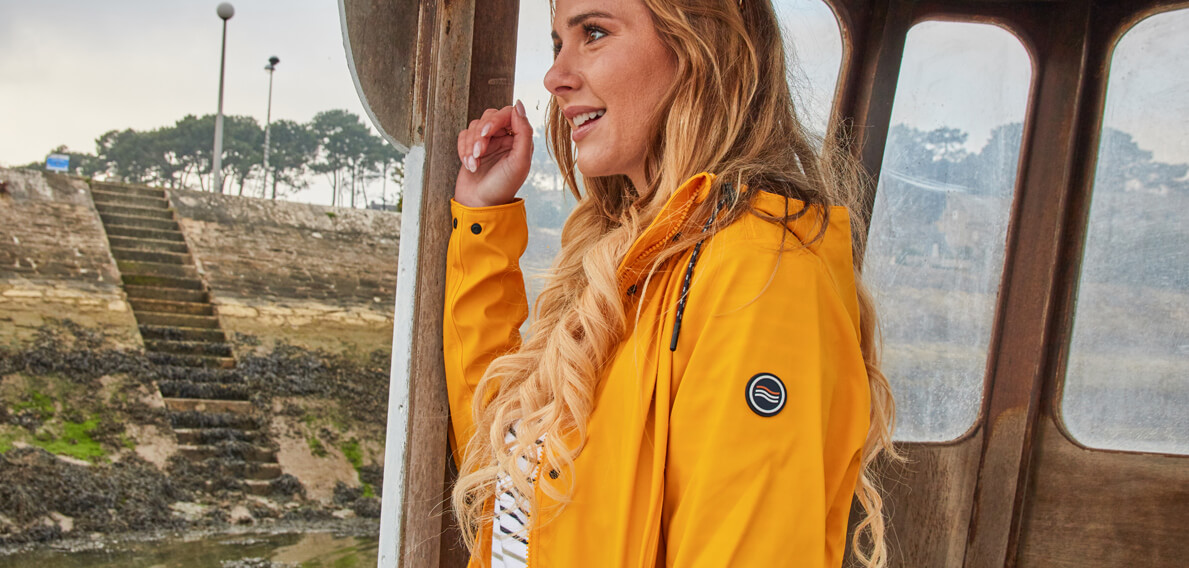 Getting dressed to go out when it rains can sometimes be a hassle. The marine raincoat, whether for woman, man, child or even baby, is an emblematic piece of Brittany but also of All'Océan. It allows you to keep your clothes dry. You will be protected from splashing rain without your body drying out inside. Our models are made of recycled polyester, they also have the advantages of being waterproof and impermeable. The raincoat is the ideal rainwear for your weekend walks with the family or for everyday life. But how does the marine raincoat protect you ? How to know the limits of raincoat protection and how to measure it ? You must surely be asking yourself these questions, questions which we will answer in the article below.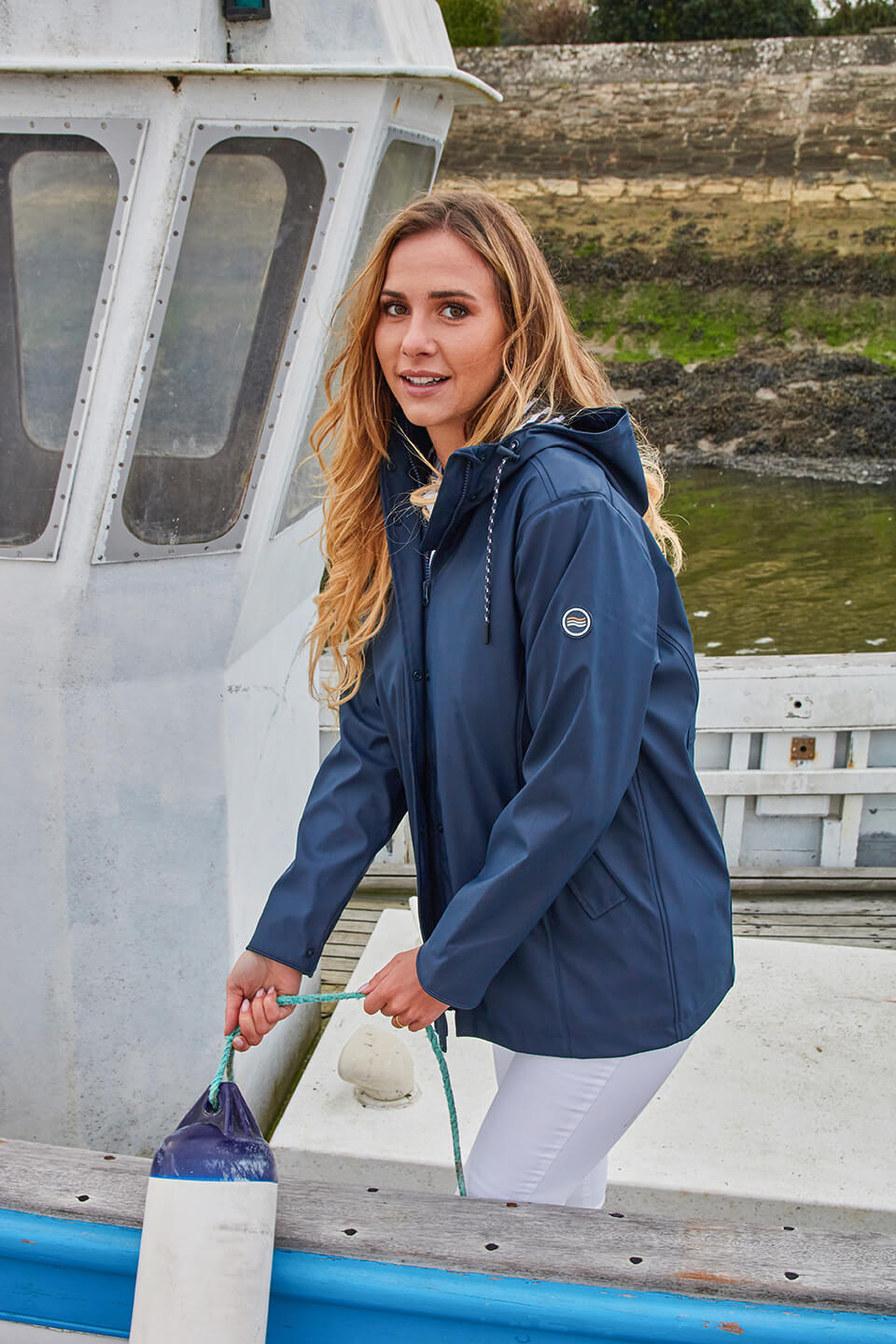 Sealing and waterproof : which diffence ?
First of all, do not confuse sealing and impermeability since there are many differences between these two technical aspects which are often confused. A waterproof fabric is by definition a fabric that prevents water from passing through the fibers of the garment. The purpose of waterproofing is to protect your garment by blocking the cells of your textile so that water slides and does not penetrate. There are several way of waterproofing a fabric, by coating or by applying a membrane for example. A waterproof garment has a 3-layer structure :
1st breathable layer that lets water vapor escape and keeps you dry
2nd layer which is thermoregulatory and allows perspiration to be evacuated
3rd layer on the surface to resist abrasion and protect against wind and weather
More your fabric is waterproof and has a high Schmerber measurement, less breathable it will be. A garment that is not breathable does not wick away perspiration and is therefore less comfortable to wear.
Waterproofing, on the other hand, is a total barrier against water. Unlike a waterproof garment, a waterproof garment does not allow water or water vapor to pass through and is therefore not at all breathable.
At All'Océan, we have developed our marine rainwear so that they are breathable while being windproof and isolating you from the weather. In addition, they dry very quickly. Our raincoats withstand a pressure of 3 000 mm Schmerber, but what does this information mean ?
Understanding the impermeability index : the Schmerber measurement
A garment recognized as waterproof has necessarily been tested beforehand. To indicate its impermeability threshold, a technical data in Schmerber millimeters is indicated which depends in particular on the quality of the material. But what is the Schmerber measurement ? This is the name of the test performed to determine the impermeability threshold of a raincoat. Technical tests such as "the water column" are performed to evaluate the performance of a waterproof garment.
What is the water column test ?
Let's get into the more technical part. The water column test is based on an ISO811 standard norm that "specifies a hydrostatic pressure test method for determining the resistance of fabrics to water penetration." This test consists of placing a column filled with water graduated in millimeters on a tissue to exert pressure on it. Pressure is increased until droplets form on the surface of the tissue. This process makes it possible to evaluate at what pressure the water has passed through the material. The maximum degree of pressure and the degree of impermeability of the garment are therefore fixed and indicated in Schmerber millimeters.
What you need to know :
Higher the Schmerber number, the more waterproof the fabric and the more waterproof the garment, the less breathable it is.
A clothing is considered waterproof from 1500 Schmerber (this indicates that it resists the pressure of a 1.5 meter water column).
A 1000 Schmerber resistant clothing allows you to stay dry for an hour under a shower.
A classic rain is measured between 1000 and 2000 mm Schmerber.
Additional water pressure may apply to your raincoat if, for example, you are wearing a backpack or are in motion.
A clothing can range from 2000 Schmerber that is to say be resistant to a small rain up to 30 000 Schmerber offering a reinforced protection and reserved for extreme conditions.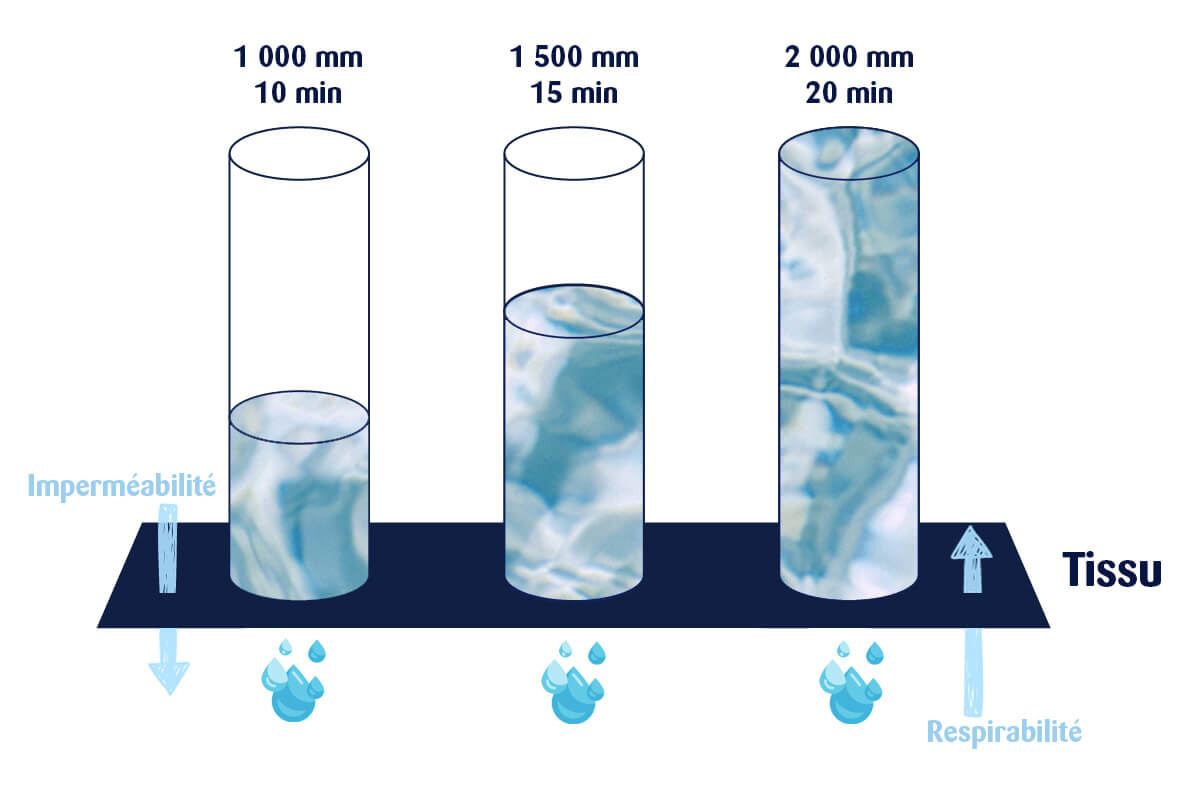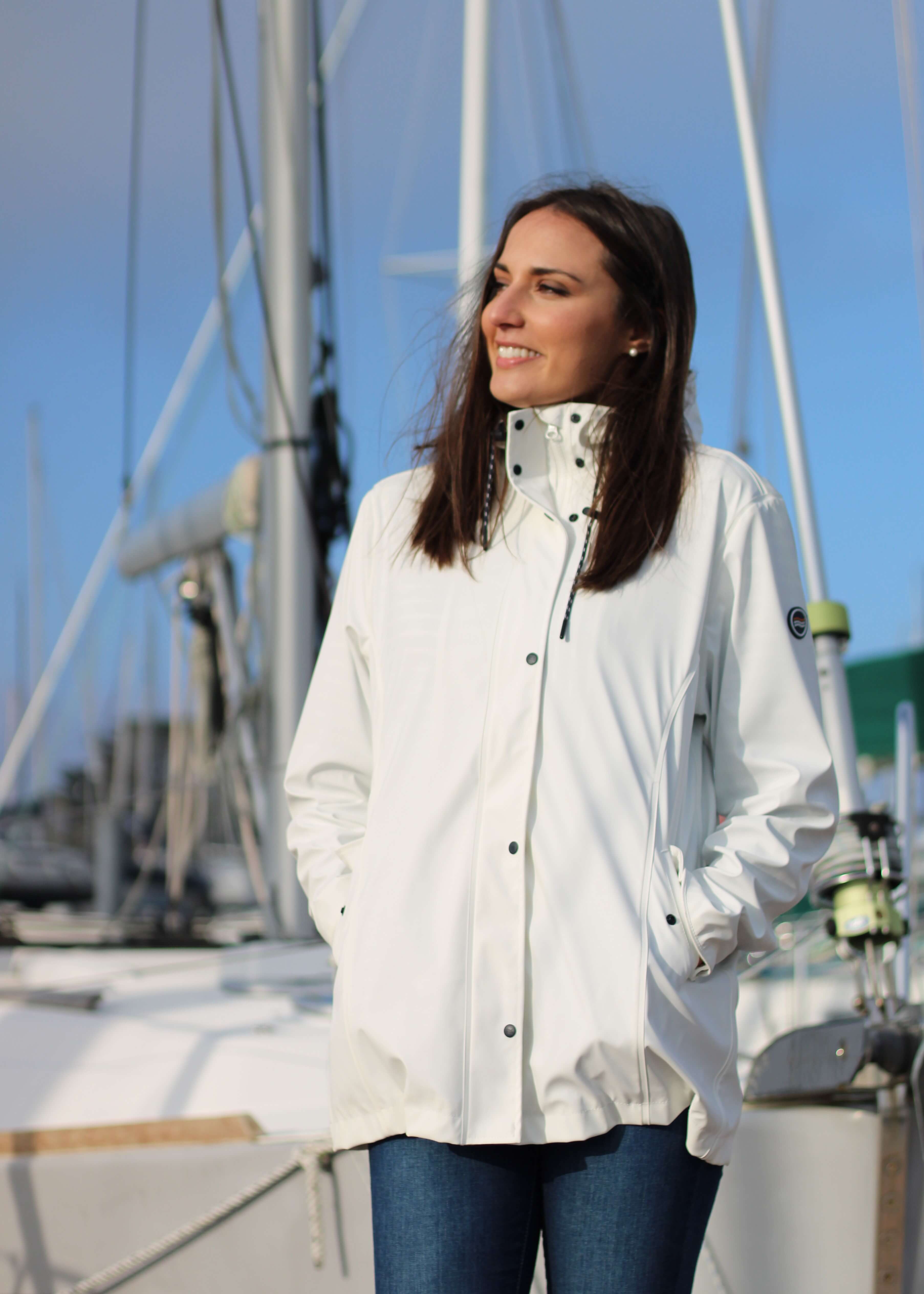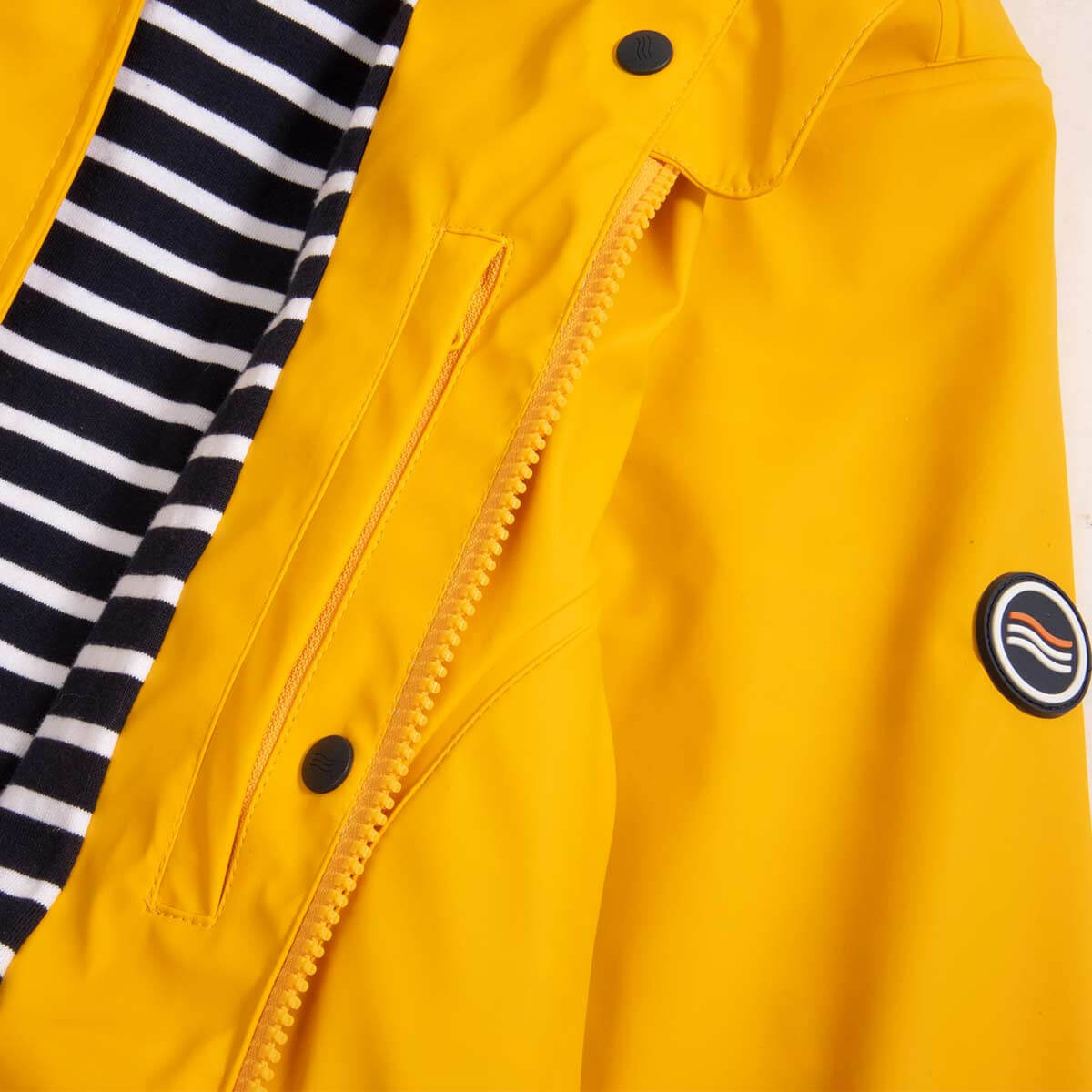 All'Ocean marine raincoat : sealing or waterproof ?
Both of them, captain ! Our marine waxes, whether PENMARCH for women, CORAIL for children, LOCTUDY for baby and soon GOÉLAND for men (2023 collection) are waterproof AND waterproof. The fabric of oilskins is necessarily waterproof, however sometimes certain elements can let water through, such as closures or seams, without you realizing it. The waterproof aspect is characterized by heat-sealed seams. They don't let any drop of rain through. Remember that the material of our raincoats has an index of 3 000 Schmerber.
A raincoat is certainly a classic but above all timeless piece that we like to keep for years. This is why All'Océan has chosen quality raw materials, to offer you quality and above all durable marine rainwear. In addition, our rainwear is made of coated recycled polyester material, which is environmentally friendly (because we want to take care of our planet). The impermeability of rainwear or fabric can deteriorate over time due to exposure to UV rays or because it is cleaned with a corrosive product. If you take care of your raincoat, it will serve you well for years to come and can continue to accompany you on long walks on the beach or in the forest or on adventures for the little ones. Find our tips to clean your waxes on the page dedicated to maintenance. Our waxes are also OEKO-TEX® certified and have no harmful substances.
Differentiate a technical clothing from a waterproof everyday clothing
Our recycled polyester waxes have a size advantage compared to technical clothing : their lightness. A technical garment waterproofed to minimum 10,000 Schmerber will have the particularity of being much heavier because of the waterproofing treatment and the material. Our rain gear is lightweight and takes no space in the suitcase, ideal to carry on weekend !
Note that with a clothing type leisure or daily, unlike a technical garment, you will not be able to go hiking or walking in a driving rain for hours. The raincoat are there to protect you and make you stay dry during a weather that can be capricious and changing (for example a typical Breton weather). If you decide to face the whims of Mother Nature by wind and tide, you will be in finality wet after a few hours.
For your information, the so-called technical or professional clothing, for example hiking in the high mountains, are sold in specialized stores at much higher prices.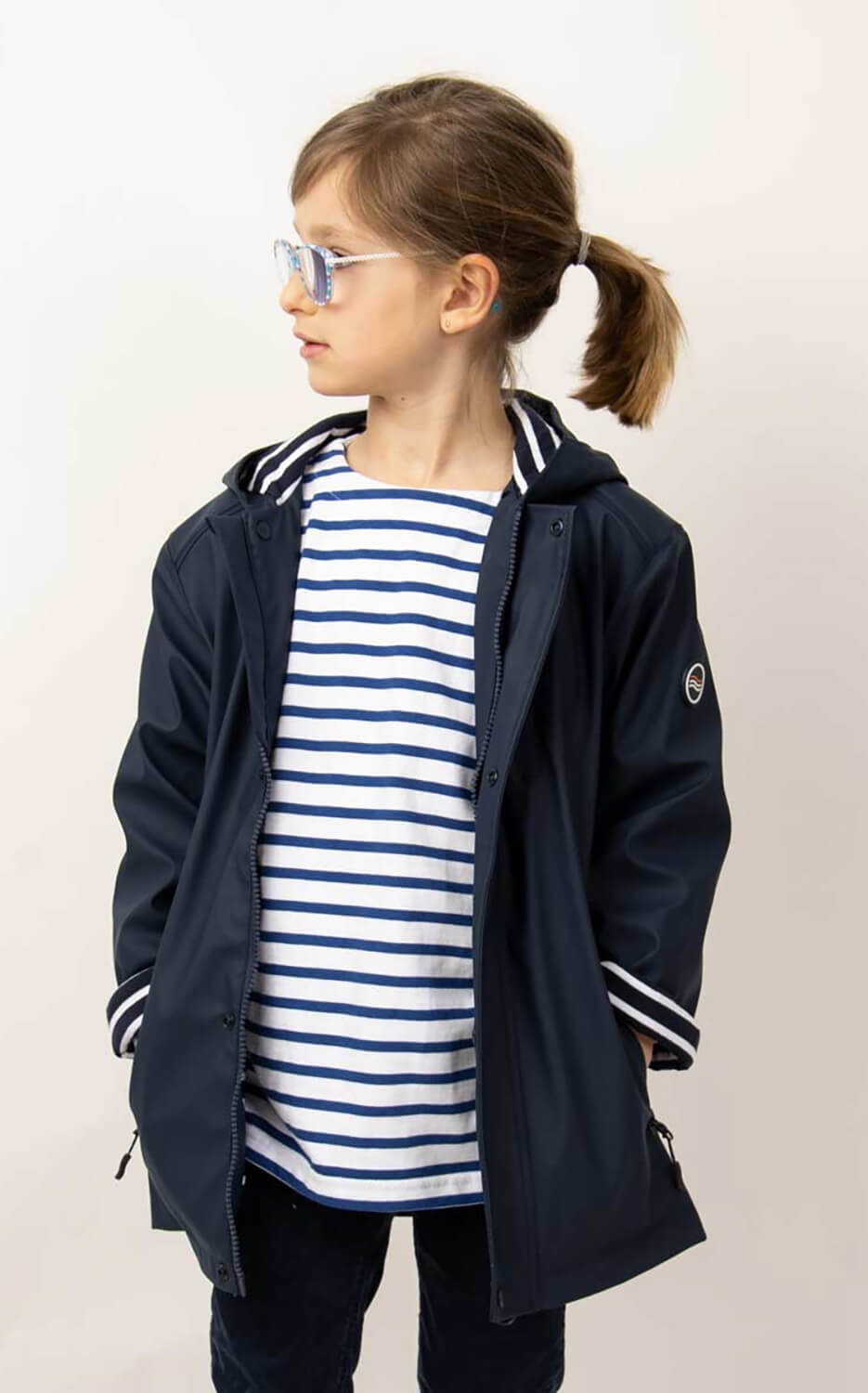 Related products